08/10/2021 07:00 AM Central
Amy Sameck
Abundantly, Awareness, Enough, Florida, Hurricane, Judgement, Rule#7, Spaghetti, Storms, Stress, Summer, Weather, Worry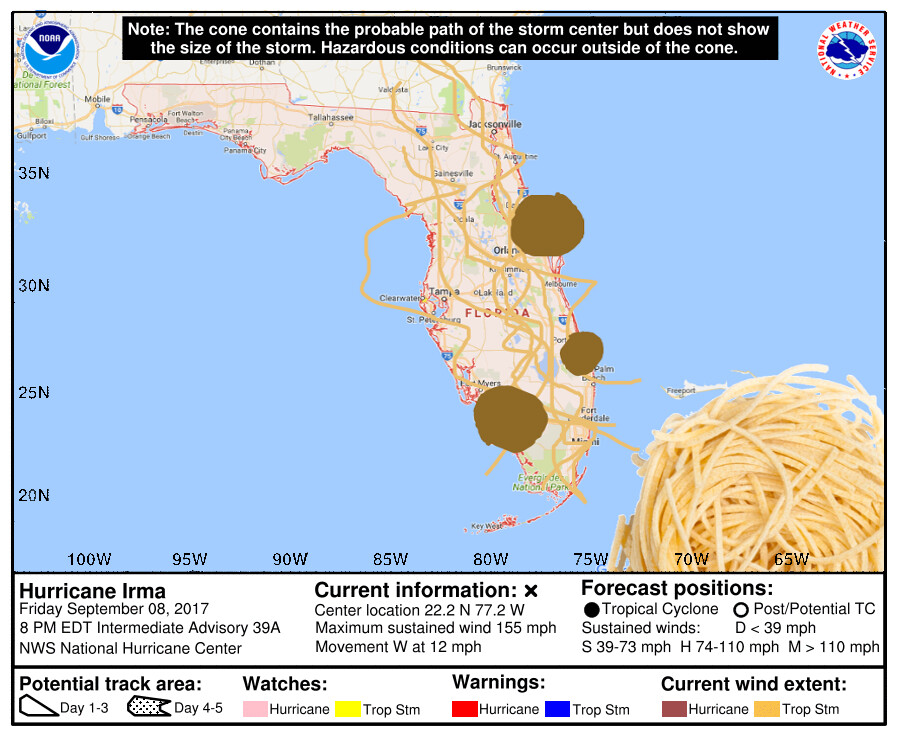 Summer Storms on a Sunday afternoon are the best. As the thunder rolls in and the lightning begins to strike, I'm usually curled up in my favorite chair snug in my soft blanket listening to the rain as it kicks up and tap, tap, taps on the roof. If I'm at my mom's house it's even better because she has a tin roof and I love the sound of rain on a tin roof. I know me and my kids are safe inside and unless a gust of wind takes down a tree, we won't likely lose power and all the worries of the day can be washed away.
We all know what happens in Florida when a hurricane is brewing out in the Caribbean. It's like people lose their heads. The weatherman starts talking about the impending storm 7-10 days before the storm arrives creating fear and worry about the looming catastrophe. With each day, the hubbub rises; "breaks" in your programming with dire warnings to prepare and hunker down, predictions of where it will hit that look like spaghetti thrown over the state, last chances to run out for necessities, and Rule #7 (Tampa peeps understand). Many will freak and wipe out the stores of bread, water, and toiletries. It's like it has become a sport to see how riled up the people can get BEFORE we even know where the storm will hit and what Cat it will be.
Often, they get it wrong, and the hurricane is like a long summer storm in strength or takes a last-minute turn and heads out into the Gulf (it does eventually come on land somewhere and those people are the ones who suffer, but because the surrounding areas have depleted the supplies, they can't get essentials when they really need them the most). Something that might've been enjoyed as a time to rest, hanging with family, playing cards, and maybe invite a few friends over and have a Hurricane party, has instead been over sensualized and left people reeling.
Eventually, one of two things happen. Person #1 storms: they feed into the crazy routine of getting worked up and losing their minds causing stress and worry that ultimately affects their mental well-being more than any physical damage from the storm. Person #2 wades: they don't create a story of what "might" happen. They wade into the waters, calmly waiting to see what happens. They ride it out and take the "it'll be ok" approach. There is no panic. There is no worry. And there is no stress.
These two totally different approaches are fascinating to me.
I've lived in FL all my life and have learned to be a person who waits out the Hurricane, but in my daily life, when I'm presented with the potential for a storm, I tend to be a storm-er. More about this next time. If you'd like to be a part of the conversation, head over to my FB community, Abundantly Enough: The Perfectly-Imperfect Woman, to chat in a safe and helpful environment.
Looking forward to seeing you there.
Amy S